Bulls, where the difference is made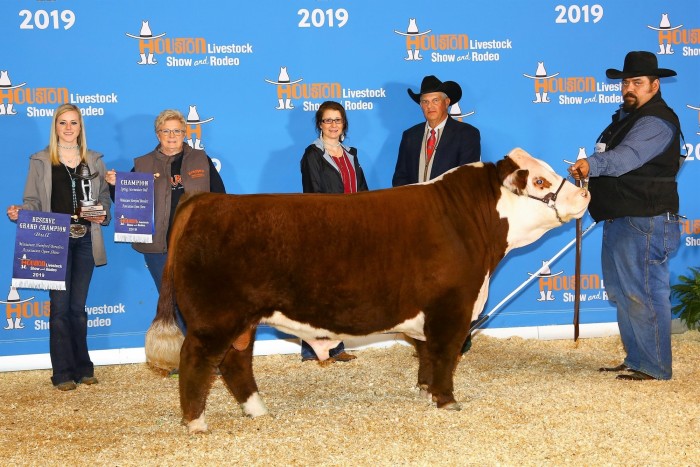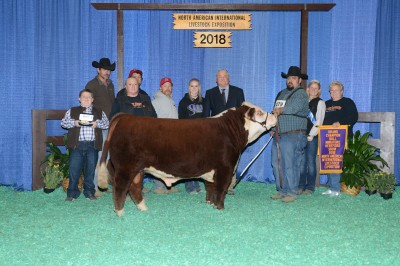 TAY King's Sully  
AHA# P43809987  
February 2017
Heterozygous polled
Frame score 0-1
MSUDF (Maple Syrup Urine Disease Free)
Grand Champion Bull 2018 NAILE
Res Grand Champion Bull 2019 Houston
Res Grand Champion Bull 2019 Tulsa
Division Champion 2018 NAILE
Division Champion 2018 NILE
Division Champion 2018 Tulsa State Fair
Division Champion 2019 Houston
Division Champion 2019 Tulsa State Fair
Res Division Champion 2018 NWSS

Res Get of Sire 2018 NWSS
Here is a link to his herfnet profile for pedigree work.
Quality shows itself.  Sully causes quite the gathering around the stalls.  He is striking.  Powerful, pigmented, long bodied, polled and as sound as you could want one.
We have bred Sully to "W" (Whiskey's dam), Corky (calf sold in utero) and Diamond for spring 2019 calves.  These caves are looking very interesting and deep dark red.
Sully conventional (unsexed) flush quality semen is $100/straw.  There are no minimums.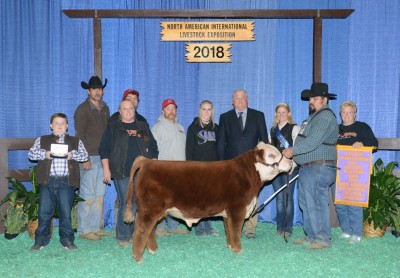 CBD Whiskey On The Rocks  Co-owned with Straitside Ranch (SSR)
AHA #P43897041  
February 2018
Homozygous Polled
Frame score 1
MSUDF (Maple Syrup Urine Disease Free)
Res Grand Champion Bull 2018 NAILE
Res Grand Champion Bull 2018 Tulsa State Fair
Division Champion 2019 NWSS
Division Champion 2018 NILE
Division Champion 2018 NAILE
Res Div Champion Bull 2018 Tulsa State Fair
Whiskey was bred right here at H and R Ranch.  He has an exceptionally low inbreeding coefficient and will fold well into most any breeding program that requires improvement.  Whiskey breaks all the rules about polled cattle.  He is simply stunning.
Semen available now.  Contact Holly at 918-960-1752 for current updates on what could be the most exciting bull calf in the country.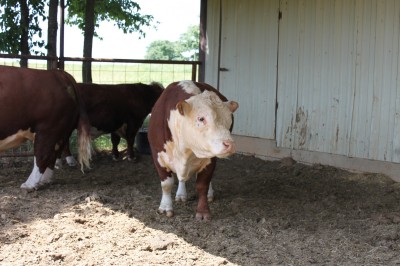 P&D RANCH FILLMORE YC2  "Shorty"
AHA # P43230236 
Homozygous polled
Frame score 000
MSUDF (Maple Syrup Urine Disease Free)
     "Shorty" is as solid built as I've seen (he was never shown but he is better than 80-90% of what I see at shows in the bull division.)  He's got tons of bone, sound,  easy keeping, heavily muscled and best of all...he's HOMOZYGOUS POLLED!  

     "Shorty" simply can't sire a horned calf.  

      At exactly four years of age "Shorty" was only 41.5" across his hips, making him a frame score 000 and 1,200 lbs ON GRASS.  He's so wide our cow vet has stated that even the big bulls he sees aren't this stout usually.  Needless to say we are mighty impressed with our "Shorty!"

     We are finding that his calves are very well received by visitors and buyers when they tour either ranch.  He sired a heifer in our current show string (Annalise) that always draws praise from the judges and fellow breeders alike.  She's sound and dark red making her a real sight to behold but the best part is her personality.  Ask people that have a "Shorty" calf and they'll tell you about the disposition he stamps on his progeny.

     This guy has blown the bull stud away.  "Shorty" makes some of the best semen they evaluate even at his older age and he does so with consistency time and time again.  He passes along this virility to his sons and daughters.  If your goal is to improve the fertility of your herd, you've found the bull for the job.

     He has a well established calving record and is heifer safe to a frame score 000.
Frozen semen is for sale:
Conventional (not sexed) flush quality semen is $25/straw (no minimum) and certificates are $100/calf due upon registration. 

Update, December 2018 we are reducing the certificate fee for Shorty to $50. 
All the H and R bulls will have $50 certificate fees moving forward. 
**** SOLD OUT of SEXED SEMEN ****

Heifer sexed, 4M Ultra semen is $150/straw (no minimum) and certificates are $50/calf due upon registration.
Any buyer that purchases "Shorty" sexed semen will have all their certificates from that point forward changed to the $50 price irregardless of which semen was used from this bull.
We did donate two straws of sexed semen to the MHJN auction in 2019 and they sold for an outstanding price of $385/straw.
We store our semen at Champion Genetics in Canton, Texas.  
To order semen just click the boxes and follow the directions. 
It's as easy as Amazon!

Shorty conventional (unsexed) flush quality semen is $25/straw.  There is no minimum order.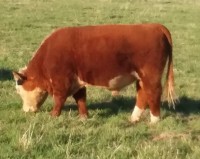 Kane's Kristoff  
AHA# 43766774  
HORNED
MSUDF (Maple Syrup Urine Disease Free)
Here is a link to his herfnet profile for pedigree work.
Kristoff is a docile horned bull that has joined our bull lineup.  Since we focus on polled minis you know he's got to be special to eat our grass.  
He comes from the Rolling Hills program and is heavily LS bred, while still maintaining a low inbreeding coefficient.  He has amazing feet and legs with lots of bone and depth for his frame size.  
Our hoof trimmer Eric DeBrode was extremely complimentary of his power and structural correctness, "That's what this breed needs more of from what I've seen."
His first calves are due in March 2019.  His pedigree is extremely unrelated to our foundation females which will reduce the inbreeding coefficients even further for their calves.
He made very high quality semen. 
$30/straw (no minimum) and $50/certificate.
We estimate him to be heifer safe to 00 and will update when the first calves hit the ground.
** Update** The first Kristoff calf has hit the ground and he's shaping up to be the best calf this cow has raised to date.  We are impressed with his vigor, bone and muscle at just a few weeks of age.
Kristoff conventional (unsexed) semen is $30/straw.  There is no minimum order.
Certificates for all above listed bulls are $50
Please indicate your breeder (AHA member) number in the text box.  We release certificates online and must have that information.  Please indicate which bull the certificate is from also.